It was absolutely fun planning for this outdoor cake smash portrait session. When mom contacted me months ago for Lucy's birthday session, she requested the "some bunny is One" theme. It was perfect and I immediately began planning for her session by ordering backdrop, to make sure it would arrive in time for her Cake smash session. Everything was coming along as I prepped in advance. About 1 ½ months before her portrait session, we were ordered to close our studios due to Covid-19 virus. I was so sad this was happening, but yet relieved that everything ordered for Lucy's session arrived early and safely.
Things began changing fast in the photography business world., and I had to change too. When it was safe to work with clients, I scheduled  outdoor session to ensure clients safety, and grow my creativity. My goal was to provide the most memorable birthday session for this cute little bunny, as well as creating what mom envisioned for her baby girl.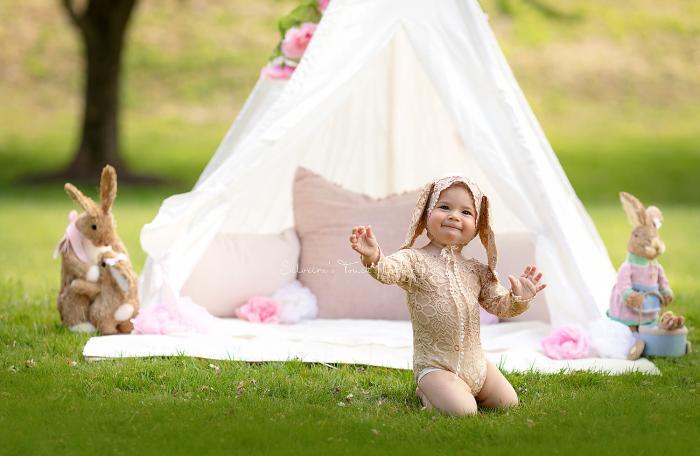 Why Outdoor Birthday Portraits?
Planning for an outdoor cake smash portrait session is so much easier, these sessions are my JAM! The session day was perfect! We had beautiful weather and space to set up while following social distancing. The "Some bunny is One" theme turned out to be so much cuter outside. I brought a Tepee, bunnies, and other props to coordinate with the theme! Lucy enjoyed every minute of the session, and time photographed! She is the happiest baby, nothing phased her, not even seeing me in a mask!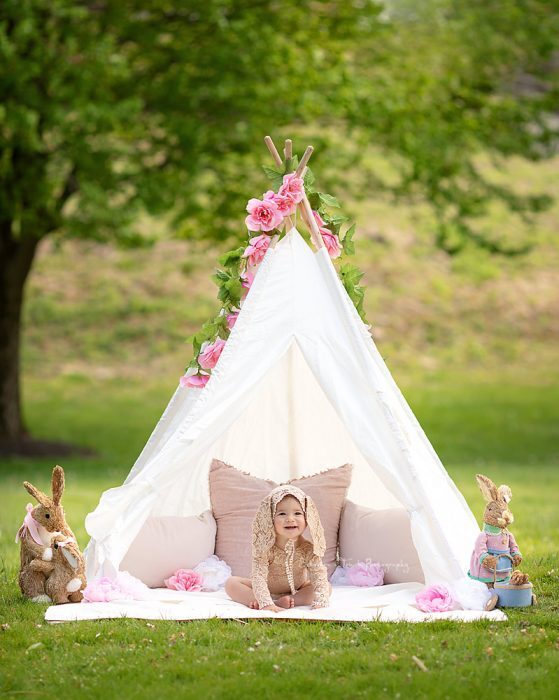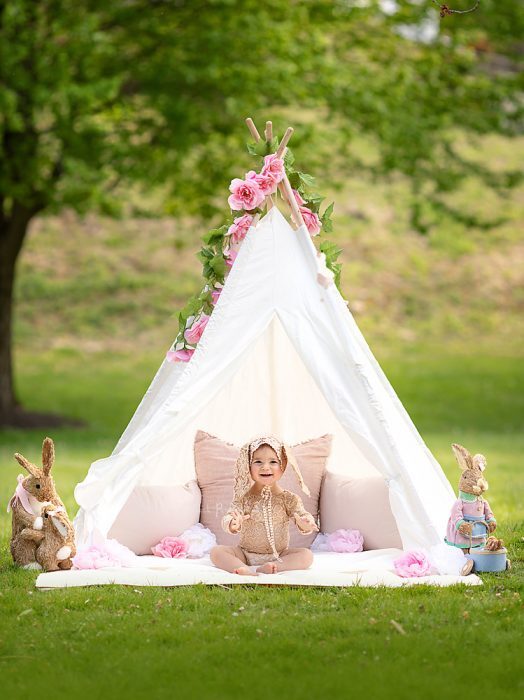 Common theory on Cake Smash time
Cake smash time was not as fun, and this is so very common with all babies. There are very few children that enjoys the cake smash part, but other babies just don't like the texture of the cake. Still so much fun to capture and watch their facial expression. One day she is going to love tearing down that birthday cake, just like me. This session is going to be the most memorable birthday photography session in her life, and I'm so happy and honored to have been a part of documenting it.
Learn more about scheduling an outdoor NJ cake smash session. Contact us or call 973-207-1330