We had an AMAZING outdoor maternity session last night! To say the stars lined up perfectly for mamma and I, is an understatement! About two weeks ago Radhi, contacted me with inquiries to book her soon to arrive newborn session. Although this was such an exciting time, She was sad that she didn't get to document her pregnancy due to the pandemic shut down. Pregnancy journey is amazing and I felt her sadness. After chatting over a few emails and reserving the newborn session, this day for her maternity session became available. I quickly let her know of the availability, and we scheduled. I truly believe the Stars lined up for us from the day she contacted me.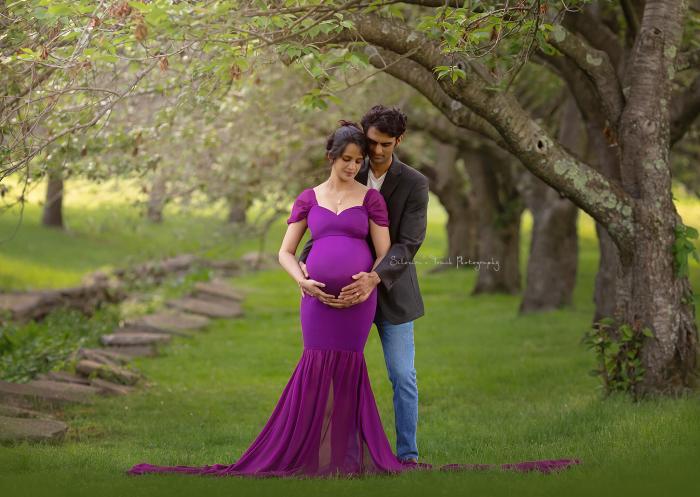 PLANNING FOR OUTDOOR MATERNITY PHOTOS
Outdoor maternity session is scheduled about an hour or so before sunset time, or when the sun is not too harsh. I must say the weather was absolutely perfect last night! We met at Hurd Park (known for the Cherry Blossoms in the spring) just when the sun peeking in between the trees providing gorgeous light for her portraits. Wearing a gorgeous purple maternity gown that fit beautifully! Through out her maternity photography session, I felt her joy, and saw happiness in her eyes. Daddy to be was also gleaming with happiness and so helpful. The flowing maternity gown portrait is done by flipping the end of dress upwards. Daddy did sweat a little helping with the flip of the dress, but oh it was so worth it!
CUSTOM MATERNITY PORTRAITS
When I plan for a scheduled maternity photo shoot, I pencil in the choices in color and style my clients envision. Creating a custom and unique experience for my maternity moms is my ultimate goal, because you are special and should feel special from now until you hold your sweet baby.
I am happy to chat with any mom-to-be, or daddy to be about an upcoming pregnancy photo shoot. Contact me with all your inquires.