It was a beautiful evening for baby Samuel's outdoor newborn photography session. When his mom contacted me, she shared how much she didn't want to miss out on his newborn session, and was recommended to me by one of my clients. She expressed how his tiny moment when he arrives, is one she would like to document like she did with her older child. Safety is my top priority when working with families and their newborns. I explained due to uncertainty of Covid, documenting his tiny moments is important, and doing them outside is the safest way now. Before confirming I provided all the safety measures I take for all my client sessions. She was beyond thrilled her baby boy was not going to miss being photographed, as we planned for his session. Baby Samuel arrived a week later, and he is so cute and perfect!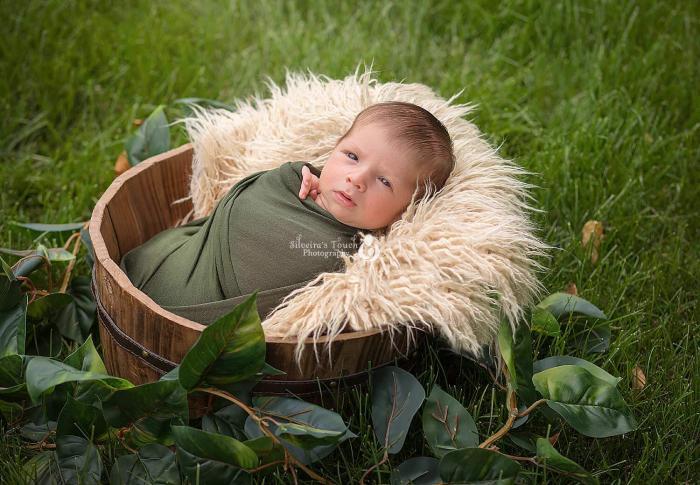 Newborn Portraits Outdoors
On the day of his outdoor newborn photography session, baby boy was a day shy from 3 weeks new. He was so alert and observant of his backyard surroundings, watching my movements. His beautiful eyes, and gorgeous creamy skin blended so well with the greenery that surrounded him along with the props. Gorgeous big sister is in love with baby brother, and loved cuddling for their pictures together. It was the perfect element for big sis, as she ran off to play right after a few photos.
How to Plan for an Outside Photography Session
The first step to capturing a relaxed photography session outdoors, is to schedule the session when baby and siblings are the happiest. Also plan for when the sun is not as harsh. A sunny hot day would not be best for newborn sessions, as it would hurt their eyes and uncomfortable for the family. Wrapping babies is a perfect way to keep them content and safely secured. Not a lot of props are needed, either. A basket, two wraps and a fluff for the basket, all sanitized safely is sufficient for this short session. Silveira's Touch Photography is based out of Morris County NJ and has photographed hundreds of newborn babies and families the past 10 years in business, safety is always top priority. If you've stumbled across our site and interested to learn more, feel free to contact me. It is a pleasure providing all the information for your baby's first professional portraits.