Cake Smash Photo Shoot North Jersey
This cake smash photo shoot was so much fun! This little princess is a sweetheart! From the day we met at her newborn photo session I knew that she would continuously rock at her photography session. She arrived at my Mt. Olive NJ studio happy, even smiling as mom changed her into her birthday photography attire. The cutest outfit at that. Planning for her cake smash session was so much fun. After chatting with mom and listening to her ideas and color choices, I got the perfect vision for her one year birthday session.
When to schedule a cake smash session?
We began planning for her Cake smash photo shoot 8 weeks before it took place. This gave me plenty of time to have the winter onederland props ordered an in time for her photography session. Isn't it the cutest set up? When booking a birthday photography shoot with a theme, it is recommended to inquire at least 8 weeks in advance, and schedule 4-6 weeks before you will need the photos. It can also be scheduled closer to baby's birthday or after, if the images are not needed for their birthday party. Time for prepping for all photography theme is important so you have the most memorable photos of your little one.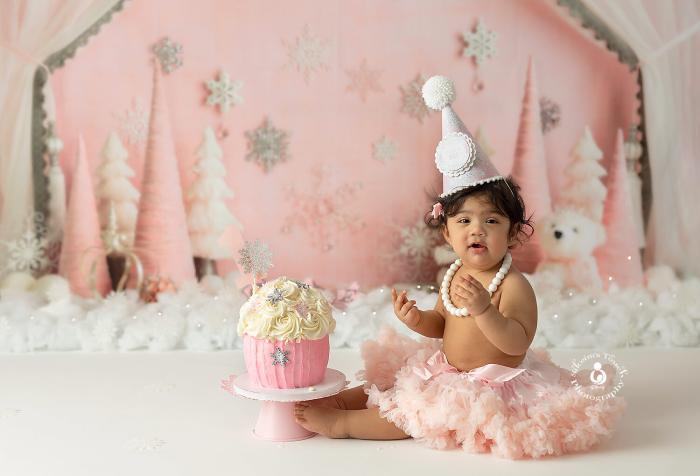 Where to get the perfect Cake Smash cake?
I work with an amazing baker in Randolph NJ. She custom creates all the cakes for my photo shoot.
Her design is perfect and matches al my creative set up, the cake is delicious too! Baby girl agrees, see her plowing into her cake. Cynthia from Cake it Baby takes care of you and your custom order. She's on Instagram!
If you're looking for a Cake Smash Photographer, you've come to the right place. Visit my Cake Smash Portfolio and contact me for full details. Silveira's Touch Photography is located in Mount Olive NJ, Morris County.